When Andrew and I first got engaged, we thought about having a destination wedding. Then we thought about eloping. Then we thought about having a wedding in New York City, where we lived at the time and also where we met and dated. New York won out in the end and after about a year of planning, we exchanged our vows in front of 60 close friends and family, under blue skies and surrounded by amazing views of the city. That was 2 years ago on October 10th.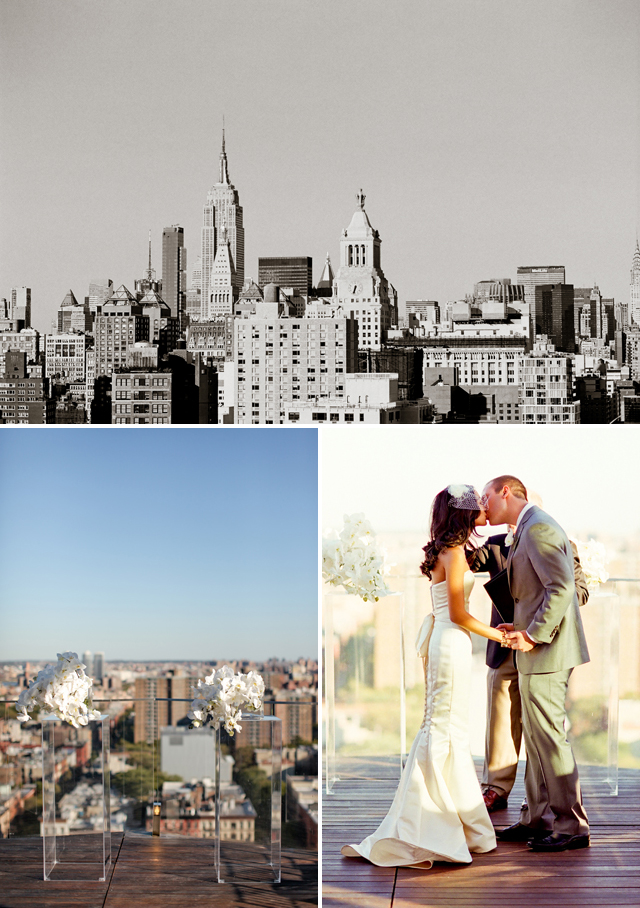 Having just returned from a physically exhausting vacation full of early mornings and hiking, the day of our anniversary was more about recuperating than celebrating. We made proper dinner reservations for this weekend, so on the day itself we simply enjoyed a home-cooked meal and I made a batch of pumpkin whoopie pies, which were one of the many sweets that we had at our wedding reception.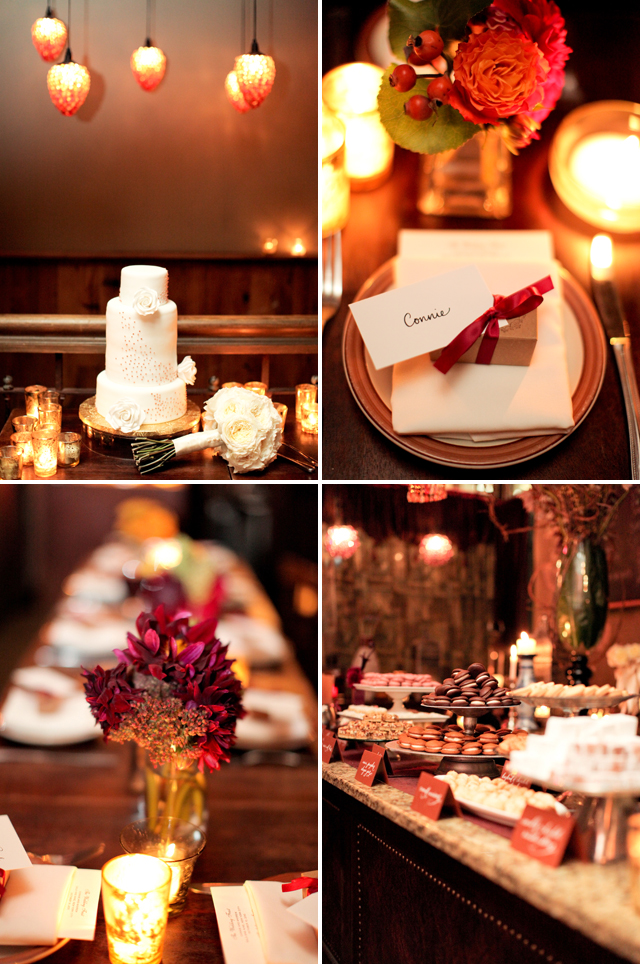 The cake (I know you are all wondering) had alternating tiers of almond cake with Nutella buttercream and devils food cake with chocolate ganache. Then we ended the night with a dessert bar by One Girl Cookies, which is still the prettiest display of sweets I've ever seen.
For our anniversary, I thought about remaking the almond cake, but my One Girl Cookies cookbook was calling to me. The dessert bar they put together for us had everything from French macaroons to meringues to marshmallows—10 different confections in total. It was all beautiful and all delicious, but my favorite treats on the bar were without a doubt the pumpkin whoopie pies.
If you live in or nearby Brooklyn, One Girl Cookies sells their pumpkin whoopie pies year round (not just in the fall) because they are that good! Otherwise, you can make their famous whoopie pies yourself, which is what I have to do now that I no longer live in New York.
They are basically soft cake-like pumpkin cookies sandwiched together with a lightly spiced cream cheese filling. I may end up making these every year to celebrate our anniversary from now on—it wouldn't be a bad tradition to start.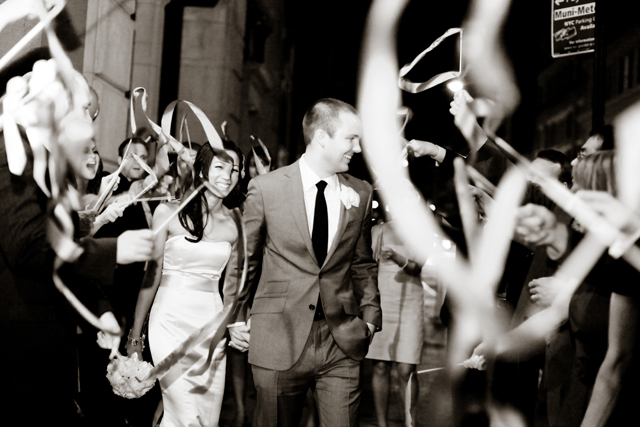 Note: All the wedding photos above were taken by Jen Huang. If you're interested in knowing more details about the venues and vendors that we used, feel free to shoot me a message.

Pumpkin Whoopie Pies
Adapted from One Girl Cookies
3 cups all-purpose flour
2 teaspoons ground ginger
1 teaspoon ground cinnamon
1 teaspoon baking powder
1 teaspoon baking soda
1 teaspoon table salt (I used fine grain sea salt)
1 (15-ounce) can pumpkin puree
2 cups packed light brown sugar
1 cup canola oil
2 large eggs, room temperature
2 tablespoons dark molasses (I used unsulfured blackstrap molasses)
Maple Spice Filling (recipe below)
Preheat the oven to 350 degrees and line a baking sheet with parchment paper. In a medium bowl, whisk together the flour, ginger, cinnamon, baking powder, baking soda, and salt and set aside.
In the bowl of an electric mixer fitted with the paddle attachment, mix the pumpkin puree, light brown sugar, canola oil, eggs, and molasses on medium speed for 3 minutes, until well combined. Scrape down the bowl and then turn the mixer on low speed. Slowly add the flour mixture to the wet ingredients, mixing for a total of 30 seconds, until the batter is just combined. Scrape down the bowl and make sure the batter is thoroughly mixed.
Fill a pastry bag fitted with a large round tip (the hole should be about the size of the tip of your ring finger) with the batter. Pipe the batter into 2-inch diameter circles onto the prepared baking sheet, leaving about 1 1/2-inches of space between each cookie. Keeping the pastry bag vertical while piping will help create even circles. (I also pushed down any points on the cookies created by the pastry bag with a finger dipped in water.) Keep the batter refrigerated between batches.
Bake for 10 minutes. Then rotate the baking sheet and bake for about 8 to 10 more minutes (it only took 4 minutes more for me), until the cookies are a deep orange color and spring back when touched. Transfer them to a wire rack to cool completely before filling them.
Once cooled, turn half of the cookies bottom-side up. Place a small dollop of frosting on each bottom-side up cookie using a pastry bag. Place the remaining cookies on top of the frosted ones and gently press down to sandwich them together.
Makes 24 whoopie pies.
Maple Spice Filling:
4 ounces cream cheese, room temperature
5 tablespoons unsalted butter, room temperature
1 tablespoon Grade B maple syrup
1/8 teaspoon ground cinnamon
Pinch of ground cloves
1/8 teaspoon table salt (I used fine grain sea salt)
3 cups confectioners sugar, plus more if needed
In the bowl of an electric mixer fitted with the paddle attachment, cream the cream cheese and butter together on medium speed for 3 minutes, until light and fluffy. Scrape down the bowl and add the maple syrup, cinnamon, cloves, and salt. Mix on low speed for 30 seconds.
With the mixer on low, slowly add the confectioners sugar and then beat for 1 minute. Scrape down the bowl and make sure the filling is thoroughly mixed. The filling should hold its shape; so if it is too soft, add more confectioners sugar a tablespoon at a time until the consistency is right.
The filling can be made up to 5 days in advance, stored in the refrigerator in an airtight container with plastic wrap pressed against the surface of the filling.