I woke up this morning and realized that there are only two weeks until Thanksgiving! My parents will be coming into town, so I will be hosting Thanksgiving dinner for them for the first time ever (eek)! I spent most of my morning looking up table setting ideas and going through recipes. And now I have an extensive list of all the ingredients that I need to get, all my recipes picked out and ready to go, and a timeline for all the preparations. It's amazing how fast your mindset can change with a little organization. I went from panicking to being way over-prepared to cookie baking in what seemed like mere moments.
After all the preparation, I figured a little baking was in order. If you like chocolate and have no aversions to nuts, you'll like these cookies. They have a great set of ingredients, including oats, cocoa, coconut, and almonds: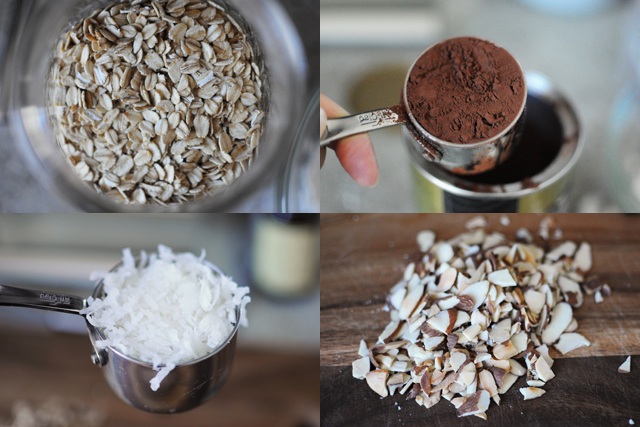 There's also melted chocolate and butter involved, which is never a bad thing. And the dough is so rich and chocolaty; you know they're going to be good even before you bake them.
Once December rolls around, I'll be making cookies non-stop for the holidays, so I think it's safe to say that these will be my last batch of cookies for November. I plan on testing out some new Thanksgiving recipes next week so check back!

Chocolate Coconut Almond Cookies
Adapted from delicious inspiration
1/2 cup (1 stick) unsalted butter
1.5 ounces (about 1/4 cup) semi-sweet chocolate chips
1 cup all purpose flour
1/4 cup oats
1/4 cup unsweetened cocoa powder
1/2 teaspoon baking soda
1/2 teaspoon salt
1/2 cup sugar
1/4 light brown sugar
1 large egg, lightly beaten
1 teaspoon vanilla extract
1/2 cup sweetened shredded coconut
1/4 cup sliced almonds, toasted and coarsely chopped, plus more for garnishing
Place a glass bowl over simmering water to create a double boiler (making sure that the bottom of the bowl does not touch the water), and melt the butter and chocolate together and set aside.
In a large bowl, whisk the flour, oats, cocoa powder, baking soda, and salt together. Once the butter-chocolate mixture has cooled, add the sugars, egg, and vanilla and whisk together. Pour the mixture into the dry ingredients and mix with a rubber spatula until just combined. Then stir in the coconut and almonds. Cover the bowl with plastic wrap and refrigerate for at least 1 hour.
Preheat the oven to 350 degrees and line a baking sheet with parchment paper. Drop the cookies onto the prepared baking sheet, about 2 tablespoons of dough per cookie, flatten the dough balls slightly, and place a sliced almond on top for garnish. Bake for 10 to 12 minutes, until the cookies look set, but are still soft to the touch—don't over-bake (once cooled they should be crisp on the outside and soft in the middle). Store in an airtight container.
Makes about 2 dozen.