In an attempt to prevent myself from OD'ing on sugar today, I roasted some pumpkin seeds to snack on. These are wonderfully spiced and totally addicting. And the best part is that you only need a few ingredients and a few minutes to make them.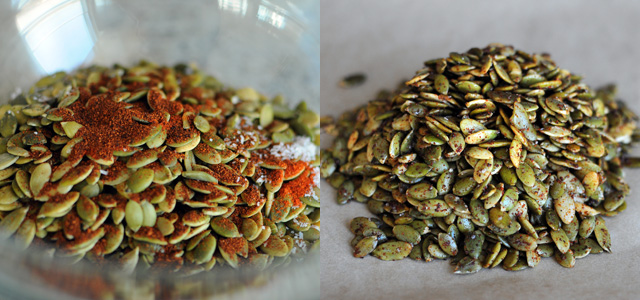 All you have to do is plop all the ingredients in a bowl, stir, spread, and bake. They are perfect served right out of a bowl, but they would also be great sprinkled on top of a salad or used to garnish a bowl of soup. Yay for pumpkins, fall, and Halloween!


Spicy Roasted Pumpkin Seeds
Adapted from Martha Stewart
1 cup shelled raw green pumpkin seeds
1 teaspoon chili powder
1/4 teaspoon cayenne pepper
1/2 teaspoon coarse salt
2 teaspoons fresh lime or lemon juice
Preheat the oven to 350 degrees and line 1 rimmed baking sheet with parchment paper. Combine all the ingredients in a medium bowl and stir until all the pumpkin seeds are coated with the spices. Spread the pumpkin seeds in a single layer on the prepared baking sheet and bake for about 10 minutes, until the seeds have puffed up and browned.
Makes 1 cup.