Fall is my favorite season of the year. The weather is great, sweaters and boots come out of hibernation (even here in Houston), and fall produce makes its way to markets and menus. Pumpkin, butternut squash, apples, and cranberries are a few of my fall favorites. Fresh cranberries in the grocery store especially remind me that Thanksgiving (my favorite holiday) is around the corner. Yay!
This cranberry jam reminds me of what would be served alongside a turkey on Thanksgiving, but as an everyday treat it is wonderful for breakfast slathered on a piece of buttered toast or on a PB and J. It's sweet and tart at the same time and I think I'm going to have to make some every cranberry season from now on.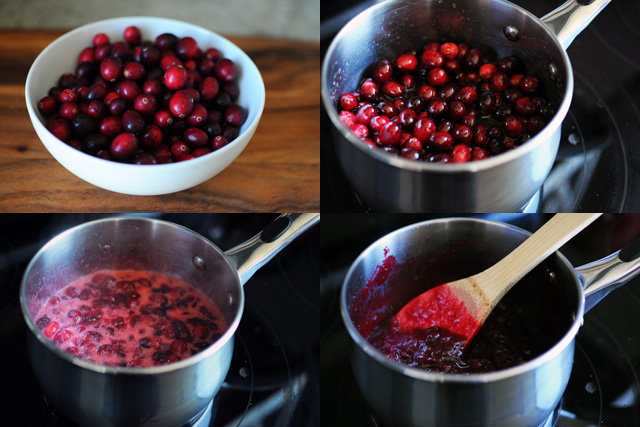 I especially love this recipe because it really showcases the cranberries. Other recipes sometimes contain apples or other fruit, but this one really lets the cranberries shine. It's also ridiculously easy, which I love.

Cranberry Jam
Adapted from Gourmet (November 2004)
I absentmindedly forgot to add the cup of water in this batch and still ended up with a great jam. Just keep in mind that if you omit the water, you won't have to simmer the jam for as long and you'll end up with jam that is thicker with a more concentrated flavor.
1 (12 oz.) bag of fresh or frozen cranberries (not thawed), about 3 1/2 cups
1 cup sugar
1/2 cup fresh squeezed orange juice (about 2 medium sized navel oranges)
1 cup water (*see note above)
Place all the ingredients in a heavy 2-quart saucepan. Bring to a boil over medium heat, stirring occasionally. Once boiling, reduce the heat and simmer the mixture uncovered for about 20 minutes until thickened—keeping in mind that it will thicken more when it cools.
If you prefer your jam on the smoother side, push it through a fine-mesh sieve to remove the skins and seeds (I like mine with some texture so I skipped this step). Once cooled, store in an airtight container in the fridge for up to a week.
Make about 2 cups.